Postcard to the Present: Hotel Wellington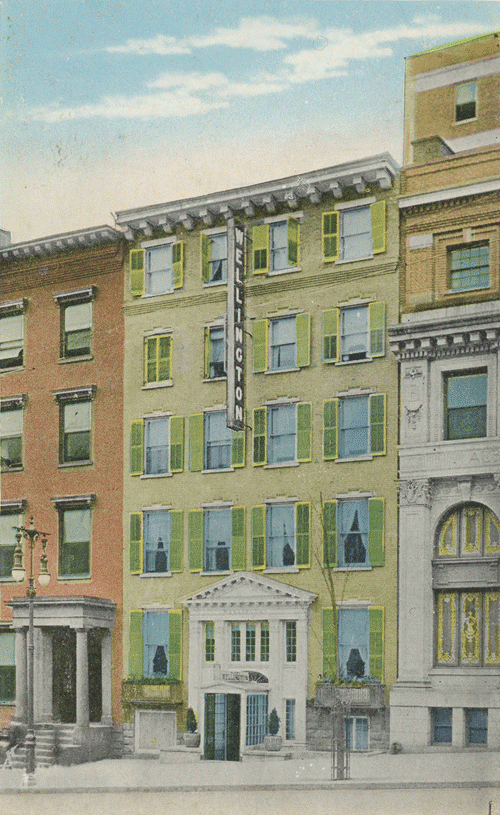 Originally renovated into a hotel in 1905, the Wellington Hotel has gone through a series of changes throughout its 110-year history. Claude J. Holding (1876-1950) bought the eight room hostelry in 1911. The exterior that we recognize today was completed in its major renovation in 1929. By the time of Holding's death, he had turned the little State Street building into a mammoth 425 room hotel which sprawled across Howard Street into a southern annex building and Albany's first automobile garage which had an interior hotel entrance. In 1960, the Holding estate sold the Wellington Hotel to Carter Hotel Operations of New York City for $1.5 million. In 1981, then Lt. Governor Mario Cuomo shared a room with his son, Andrew, who was attending Albany Law School at the time. The hotel would eventual shudder its doors in 1986 and talk of demolishing the building started soon after. In 2004, after years of neglect the building's upper cornice separated from the building which brought about heavier chatter of demolition. Columbia Development purchased the former hotel in 2006 and have almost completed  the Wellington's revitalization, along with much of Wellington Row. Our good friends at Columbia Development were nice enough to send along a few interior progress shots of the top three floors of the former hotel. They are also pleased with the building's new refurbished copper cornice and should be installed sometime in July, 2015. This copper cornice is another fine example of Columbia Development taking the Wellington Row project seriously, and will be another great addition to the history of the building.
More information on this specific card can be found here.
You may also be interested in these other postcards of the Hotel Wellington.