State Street from the Plaza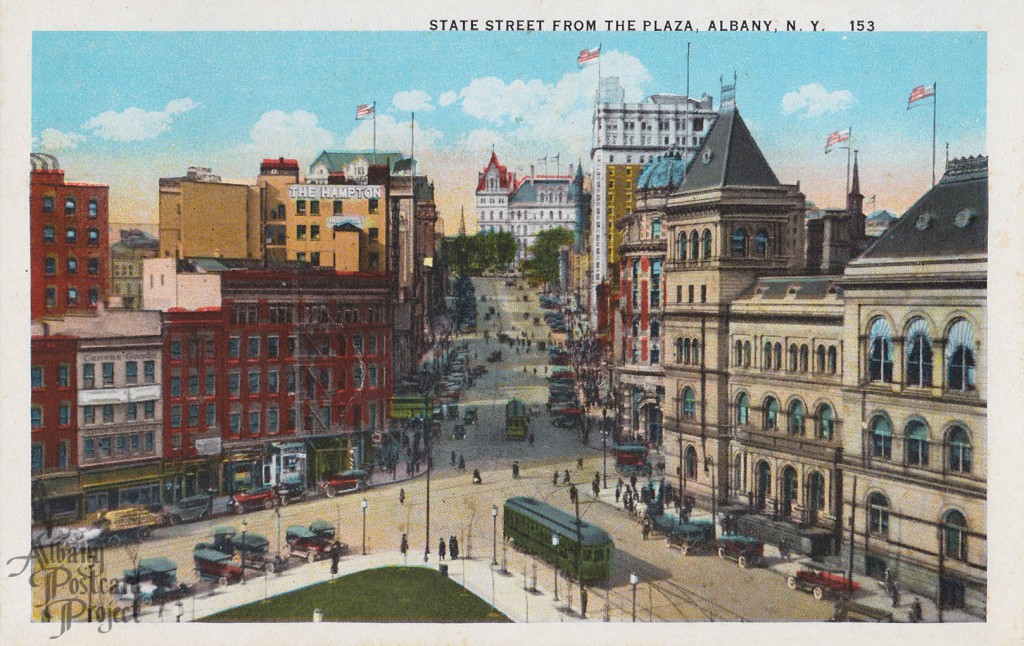 Publishing Era: 1915-1930
Publisher: Chas. W. Hughes, Mechanicville, NY
Postmark Year: 1924
Postmark Date: November 25, 1924
Mailed to: Watertown
Mailed from: Albany
Note: Dear Folks,
Thanks for the cheque cards, and letters. I was much pleased. Yes, we would like some apples after we get back from Marcia's if it is not too much for to send them. They taste pretty good, but don't send too many for they don't keep very well. We are very busy getting ready to go down with M on the 5:45 instead of the 4:22.Reach there between 8 & 9 I guess. I have just washed my hair and have 1001 little things to do the last minute. I'll write later. Much love, Gen.
Plaza Looking Up State Street
Notable Streets: State Street, Broadway, Beaver Street, Dean Street
Notable Buildings: D&H Building, Post Office, Albany Trust Building, Coulson's, Hotel Hampton, Jack's, New York State Capitol, Albany Argus Building, Douw's Building, Alfred E. Smith Building, Home Savings Bank, SUNY Research Foundation, Hotel Ten Eyck, New York Telephone Building, St. Peter's Episcopal Church